By Amaris Pollock, Triple Play Media
Philadelphia, PA—Two prominent names in Philadelphia's restaurant industry are coming together in a collaborative effort to raise awareness and funds for families affected by food insecurity.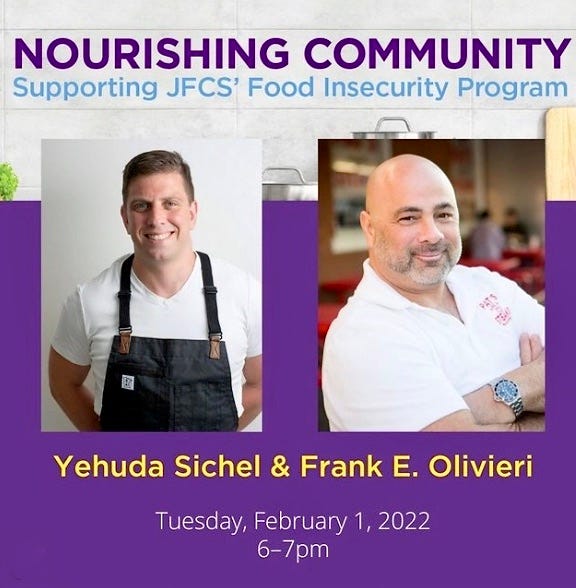 (Photo obtained from HUDA's Instagram.)
Yehuda Sichel of HUDA and owner of Pat's King of Steaks, Frank E. Olivieri, are hosting a virtual cooking experience from their own kitchens to raise funds for Jewish Family & Children's Service (JFCS) on Tuesday, February 1st at 6pm.
The virtual cooking experience, named Nourishing Community, is an hour-long event where Chef Sichel will share his recipes for Matzo Ball Soup and Brisket while Olivieri will provide attendees with a behind-the-scenes look into Philadelphia's booming restaurant community via first-hand stories and experiences.
"Food insecurity across the region remains at an all-time high," said Pia Eisenberg, Sr. Vice President, Community Engagement, JFCS Greater Philadelphia in a press release. "We are grateful to Yehuda and Frank for their commitment to helping us raise much-needed dollars in this engaging way for our food relief efforts in support of the most vulnerable in our region."
(Photo Obtained from Jewish Family & Children's Service Website.)
JFCS, which is  an organization that is committed to increasing access to healthy food among food-insecure families and households in the Philadelphia region, also offers a grocery delivery program offering fresh produce, eggs, and milk, which are not often widely available in pantries and other food delivery resources.
The Nourishing Community virtual cooking event, led by Chef Sichel and Frank E. Olivieri will help aide in raising funds to support JFCS's goal to provide nutritional meals to food-insecure families, and anyone with a passion for cooking (and giving back to their community) are encouraged to participate in the virtual event. Individuals wishing to participate can obtain their "Entrée" by contributing to JFCS' Mitzvah Menu in support of hunger relief.
Registration is required at jfcsphilly.link/NourishingCommunity
Additional information is available by contacting DeAnna Turner at events@jfcsphilly.org or by calling 267.256.2018.